Electrician Insurance – What Should Be Included?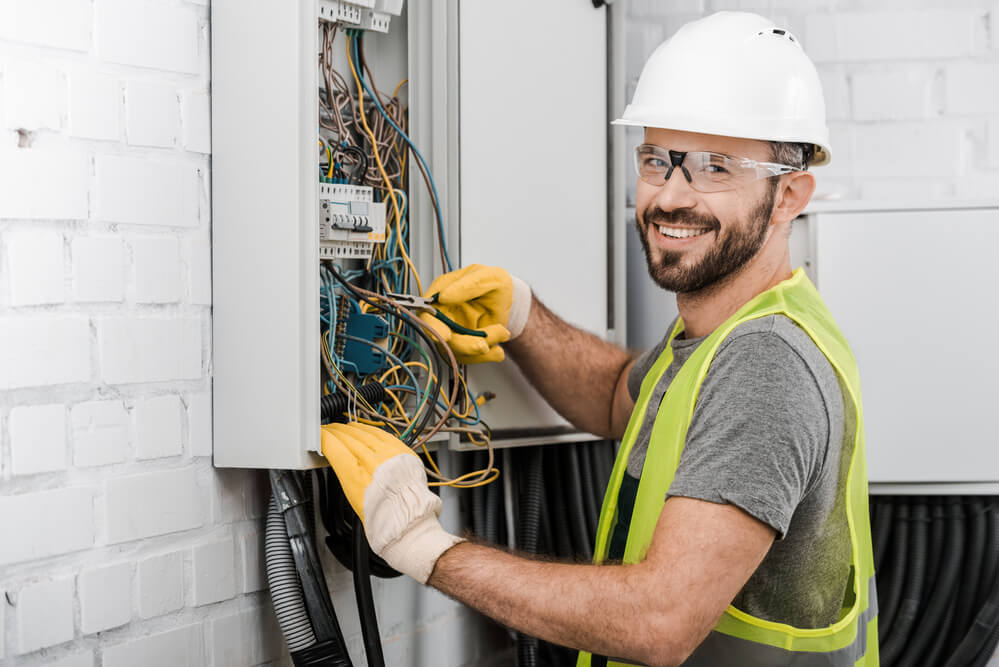 Whether you are operating an electrical business as a contractor, individual trader or are an electrical business, it's essential that you take out an electrician insurance policy also known as Trades Insurance. There are many different types of cover which can come under the electrician insurance banner and what is included can vary policy to policy.
Whether it's protection for tools, work or health, electrician insurance is essential for safety and peace of mind.
At Phoenix Insurance Brokers Pty Ltd we've put together a guide to the different types of cover electricians should have. A comprehensive electrician insurance policy should contain all of these covers.
Public Liability Insurance
Public Liability Insurance is one of the most important types of cover included in electrician insurance.
Public liability insurance can protect an electrician if they injure a person or damage their property through negligence in their work. This cover is essential for electricians, as a small accident or oversight in their work can lead to property damage or severe injuries.
Public liability Insurance can cover the financial expenses incurred from a third-party claim against an electrician, including legal costs, fees and other expenses. However, it will not cover claims or injuries by your employees or claims which you are already aware of. To cover yourself against these sort of claims, Workers Compensation Insurance is required as a part of your overall electrician insurance policy.
Workers Compensation Insurance
Workers compensation is a compulsory insurance cover in Australia that is required by law. This insurance is designed to cover the cost of an employee injury while at work, including if they are injured while working offsite.
Electricians face numerous risks throughout the day, including dealing with electrical wires, climbing on high heights and dealing with transformers. Even the most careful and properly trained electrician can encounter accidents.
Depending on the policy, Workers Compensation Insurance can cover:
Medical expenses
Hospital cover
Lump-sum payment
Rehabilitation
Wages for a temporary replacement
If you employ any workers, each of them will need to be covered with appropriate Workers Compensation Insurance. Without this cover as a part of your electrician insurance, your business could face large government penalties, as well as be left liable for medical bills and other expenses.
Professional Indemnity Insurance
A common question we get asked is 'do electricians need professional indemnity insurance?' the answer is yes. Professional Indemnity Insurance should always be included in a comprehensive electrician insurance policy.
As an electrician, you will advise on electrical project design and specifications. There is always a possibility that the advice is problematic, which can cause someone to suffer a loss. In this case, a claim for compensation can be made against you.
Electricity is dangerous and the wrong advice could have disastrous and costly consequences. It's essential to have Professional Indemnity Insurance included in your electrician insurance policy to protect yourself against these claims.
Tools Insurance
Tools are an important part of an electrician's job. If your tools are stolen or vandalised, work can't be completed. Unfortunately, theft of tools is a common occurrence, as they are an easy target and can be valuable.
Taking out an insurance policy for your tools can be an affordable way to secure them and avoid losing time and money while being unable to work. Tools Insurance can provide immediate funds to purchase a new set of quality tools, allowing you to get back to work without relying on cheap, temporary replacements.
Commercial Vehicle Insurance
Along with tools, electricians usually have a work vehicle to take them to and from jobs. Whether it's a car, ute or van, securing your vehicle with a Commercial Vehicle Insurance policy can cover you if your car is damaged and you're left unable to work.
Commercial Vehicle Insurance can be applied to all vehicle types as a part of your electrician insurance, including trailers, trucks and mobile machinery. This type of insurance commonly covers the liability of the driver, replacement car costs, repair costs and costs for disruption of business.
Plant and Equipment Insurance
If you run an electrical business which uses plant and machinery equipment, such as forklifts, trailers, lifts and cranes, Plant and Equipment Insurance can help you to cover the value of these assets, as well as accidents or damage that may occur while they are operated.
Breakdown or theft of machinery can also be covered in your electrician insurance policy, giving your business the funds necessary to replace key machinery and continue working without delays.
Income Protection
Your electrician insurance may also include an income support policy, which can pay a percentage of your wage as a recurring income for a length of time following a worksite injury, helping you to stay on top of other payments while recovering.
A customised electrician insurance policy can combine these essential insurance covers into a single, competitively priced package. Your electrician insurance cost will depend on which insurances you include and their coverage.
Phoenix Insurance Brokers Pty Ltd are Trade Insurance specialists, with years of experience providing Australian tradies with advice and protection. Our qualified brokers can help develop a unique electrician insurance package which suits your needs and will support you through the claims process. Get in touch with our friendly team or brokers or get a quick quote online.