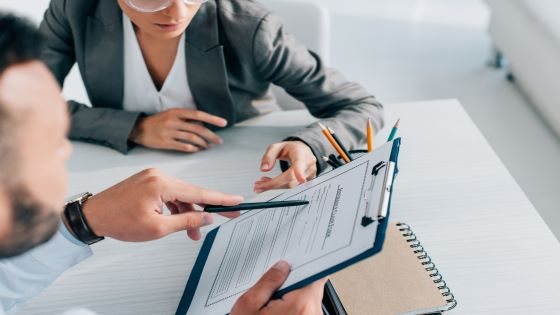 It seems these days there's an insurance product for every scenario in business, but it can be financially unviable to cover every possible risk.
Two types of insurance that are worth considering however – depending on the nature of your business – are Professional Indemnity insurance and Public Liability insurance.
But what are they? Professional Indemnity vs Public Liability, what's the difference?
To help understand these insurances, we have explored them in detail and explained why you might need them.
What is Professional Indemnity Insurance?
Professional indemnity insurance is designed for professionals who provide advice or a service to their customers. It provides cover for claims made against your business by customers claiming that your specialist services or advice caused them financial loss.
For example, an accountant who incorrectly advises a client that an expense is tax deductible, or a solicitor who provides incorrect legal advice could find themselves facing an expensive claim if their client decides to take legal action against them. You should also consider personal trainer insurance if that's your occupation as you're often giving advice on fitness and wellbeing which could result in injury.
With professional indemnity insurance, professional people can work without fear that they may be sued by a client or a third party, allowing them to carry out their work with greater confidence and peace of mind.
What is Public Liability Insurance?
Public liability insurance on the other hand, is insurance that protects a business in cases where property is damaged, or someone is injured during the course of business operations.
For example, if your employee goes to the home of a customer to carry out some repairs and accidentally knocks over their expensive vase, the customer could make a public liability claim against your business. This makes it important to have insurance for electricians, plumbers insurance, carpenters insurance or even landscapers insurance depending one your industry and occupation.
Similarly, if a client comes to your accounting practice and slips over in your foyer and is injured, a claim could be made.
If you have public liability insurance in place, you'll be covered for these sorts of claims and your insurer will pay the costs incurred.
Professional indemnity vs public liability – while these insurances are fundamentally different, they share an important similarity. If you need to make a claim, they could save your business thousands of dollars if not more, and potentially, your business in its entirety.
Professional Indemnity vs Public Liability – Which Do You Need?
• Do you need Professional Indemnity Insurance?
If you provide a professional service where you are paid for your professional service or advice, you are well advised to consider taking out professional indemnity insurance. Policies can be tailored to suit the professional they cover. There is a broad range of professionals who provide a service that may result in a claim.
Below are some of the professionals that can be covered:
Accountants
Architects
Barristers
Bookkeepers
Builders
Engineers
Management Consultants
Photographers
Project Managers
Psychologists
Some professionals belong to industry bodies that set a minimum level of professional indemnity insurance that must be taken out by members. In some industries, professional indemnity insurance is mandatory before you can legally operate.
You can view industry fact sheets on the Australian Government's Business website to find out a range of information such as recommended and required types of insurance on a per industry basis.
• Do You Need Public Liability Insurance?
In response to the question, professional indemnity vs public liability insurance, which do I need, let's now look at public liability insurance.
Almost all businesses are well advised to consider public liability insurance. In Australia, it is the core insurance for most small business owners, contractors and sole traders. An everyday slip-and-fall accident incurred by someone coming on to your premises could cost your businesses tens of thousands of dollars so this type of business insurance is one your business really shouldn't be without.
Public liability insurance helps protect you and your business against the financial risk of being liable for negligence.
Negligence is causing reasonably foreseeable harm, including:
Injury or death, such as drink or food making a customer sick
For some occupations, negligent advice such as saying a generator can power a business in a blackout but then it turns out it cannot and causes a loss
Nervous shock, such as emotional distress or a recognised psychiatric illness
Property damage, such as negligently causing a fire
One or more of your employees accidentally damages someone's property or even someone else
Consequential loss, which occurs in very rare cases, where a negligent act causes a third-party business to lose expected revenue.
What Does Professional Indemnity Insurance Cover?
Professional Indemnity covers you and your business against claims and legal costs for damages caused by acts, omissions or breaches that occur in the course of business.
If you, your partners or staff do something or neglect to do something which causes a customer an injury or financial loss, you can be held legally responsible. A claim of malpractice, professional misconduct or breach of duty is not only time-consuming to defend, it's expensive. Having a Professional Indemnity policy in place will protect you.
Below are some examples of what a Professional Indemnity insurance policy can cover:
Negligence arising from a breach of professional duty due to an act, error or omission.
Breaches of contract, such as not achieving the results of a contract (for example, not building a boat on time), or providing negligent advice (for example, giving bad financial advice or the wrong dietary advice).
Fraud and dishonesty of staff.
Libel, slander or defamation against a third party.
Loss of client documentation.
Mistakes providing a service, such as not auditing a company's accounts properly or medical malpractice when performing a surgical procedure.
Giving poor legal advice.
These examples demonstrate that if you provide professional services, you really can't afford to be without professional indemnity insurance. While it's a form of liability insurance, it's not covered within general liability insurance policies so if you provide any form of professional advice, it's important to consider this kind of claim could really cripple your bottom line.
What Does Public Liability Insurance Cover?
Public Liability insurance covers a person, a business, an event, a contractor – even a community building – for costs from legal action if they are found liable for death or injury, loss or damage of property, or economic loss resulting from their negligence.
Examples of public liability claims:
A mechanic who makes house calls works on the brakes of a customer's truck. As he tests the brakes, he drives into the back of the customer's garage. The mechanic is responsible for the repairs. With Public Liability insurance he can claim on this.
A lawyer based in an office suite has a window air conditioner. It falls from the window due to improper installation. The shop below has an expensive commercial awning, and the unit rips through the awning. The lawyer is responsible for the damages.
A horse trainer works on a five-acre plot connected to a neighbouring orchard. A horse breaks free and tramples a full acre of newly planted seedlings. The trainer is responsible for the seedlings.
A customer trips on a loose brick in a walkway. Injuries caused due to uneven sidewalks, driveways, paths, steps or stairs are claimable.
Injuries due to slipping, tripping or falling within your store/place of business or on public grounds (restrooms, gardens, cafeterias) are claimable.
Injuries from falling objects that occur on your property are claimable. Even non-customers who walk by your property could open a claim. A member of the general public who walks by a construction site and is hit by a falling hammer, for example, can open a claim against the construction company.
In the case of public liability insurance, if you own a business, you may be liable for damages or injuries to another person or property. Though public liability insurance is optional in most cases, it is strongly recommended for businesses in all industries as the likelihood of being sued for negligence is unpredictable and potentially very costly.
Some Final Words on Professional Indemnity vs Public Liability Insurance
So which insurance is right for you?
If you're in business, it's important to understand professional indemnity vs public liability insurance.
Your local Phoenix Broker can work with you to ensure you have the right cover in place for your business. They will assist in determining whether you need professional indemnity vs public liability insurance, or a combination of both.
Whatever business you're in, if there is a liability issue or a claim made against you, your insurance company handles the entire legal process for you. So, in the case of professional indemnity vs public liability insurance, you'll be able to get on with your core business should the worst happen.
When it comes to professional indemnity vs public liability insurance, contact your local Phoenix Insurance Broker today.
Frequently Asked Questions
What is the difference between professional indemnity and public liability insurance?
Professional indemnity insurance provides cover for a business if they are liable for any negligence, error or omission in the course of providing its services or products to its customers. Public liability insurance covers any claims made by members of the public as a result of damage caused by your business activities or products.
What types of claims does professional indemnity insurance provide cover for
Professional indemnity insurance provides cover for claims arising from a breach of duty, breach of trust, acts of misrepresentation and negligence in the provision of goods and services. This includes errors and omissions in the advice given by professionals such as accountants, lawyers and financial planners.
What types of claims does public liability insurance provide cover for?
Public liability insurance provides cover for any third-party property damage that occurs as a result of your business's activities or products, as well as bodily injury that may occur due to the use of these products or services. This includes compensation payments in case someone accidentally trips over something at your office premises or becomes injured due to an accident at one of your locations
How much professional indemnity insurance cover do I need?
Premiums for professional indemnity insurance are calculated according to your profession, as some professions are much higher risk than others. Just like any other insurance policy, there are several factors that go into the cost of the policy, not just the amount of cover or limit of indemnity required.
The size of a business, it's turnover and its professional activities are crucial parts of any calculation for professional indemnity insurance, along with any claims that have already been made. Generally speaking, the greater the exposure to a potential claim, the more cost will be involved in the purchase of professional indemnity insurance.
How much public liability insurance cover do I need?
How much cover you need will depend on what other companies or entities you work with. For example, if you are dealing with schools and government agencies, or if you are doing work in major shopping complexes or large commercial buildings, your contract may stipulate a minimum cover amount. Alternatively, your licensing authority may have set minimum cover amounts for different business types.
If a minimum amount has not been set out, you will need to decide on the cover amount. As a rule of thumb, the more your business deals with the general public, the higher the amount of cover that should be considered.